| | |
| --- | --- |
| | London ordered Acadian ethnic cleansing |
Higher-ups ordered Acadian expulsion, says U.S. historian
Associated Press, Telegraph Journal, 08.01
FORT KENT, Me. - An American historian says he's uncovered evidence that contradicts the accepted version of how Acadians were deported from Nova Scotia over two centuries ago.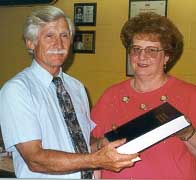 Roger Paradis, a history professor at the University of Maine at Fort Kent, said he's found documents showing local authorities didn't take the decision to deport on their own.
The conventional view of history is that the 1755 deportation of hundreds of French settlers and the confiscation of Acadian lands was ordered by the military governor Charles Lawrence and the local council.
But Mr. Paradis said the effort was organized by the British government in London.
"We're supposed to believe that Lawrence on his own authority, not knowing it would succeed, would take this action," said Mr. Paradis.
That is unlikely because the cost of transporting the vessels would have cost about 100,000 pounds, he says.
"He had no money. These transports did not move for nothing."
Mr. Paradis bases his argument on an invoice for the costs of deportation Lawrence sent to London in 1758 and a circular he sent to other colony governors suggesting England's involvement in the deportation.
A U.S. lawyer in Louisiana has been fighting for 11 years to get Queen Elizabeth to apologize for the expulsion of the 10,000 Acadians.
But Mr. Paradis, who is working on a book about the expulsion, said he just wants the record set straight in historical texts.
"What we have here is a classic instance of ethnic cleansing. It is not pretty."